All Aboard! Discover South Africa On A Luxury Railroad Adventure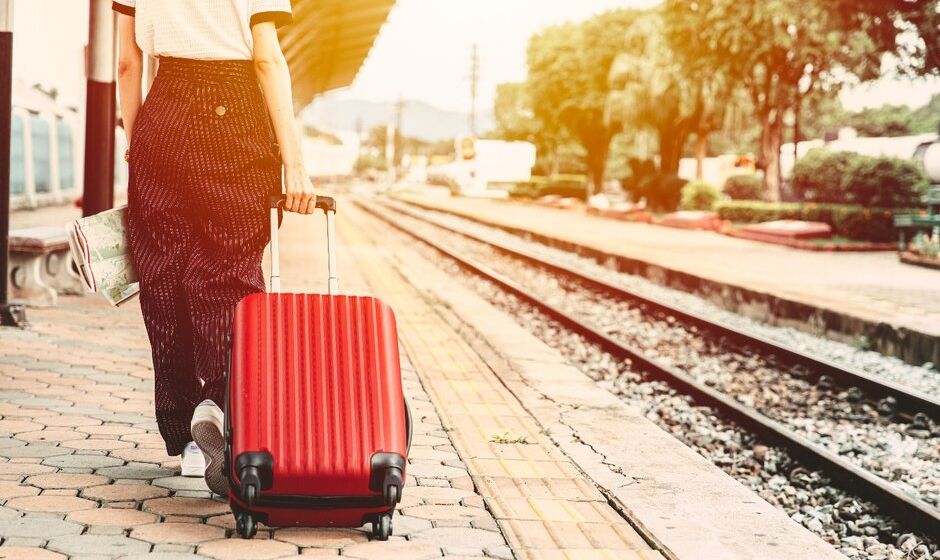 When it comes to getting around South Africa you have some great options to choose from, with a well-maintained road network that makes for some epic road trips and flights between provinces that are delightfully short and cheap you really are spoilt for choice. One of the country's best kept travel secrets, however, is train travel. There is something special about seeing new places by train, and South Africa happens to be home to some of the world's greatest rail journeys. The only thing left to ask is – Which will you experience first?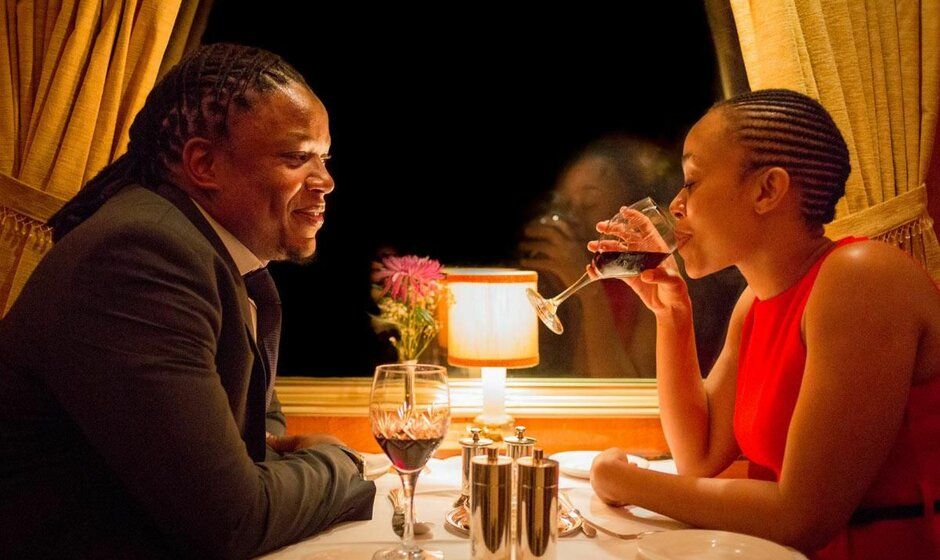 Image credits Blue Train
THE BLUE TRAIN
Described as the window to the soul of Africa, South Africa's iconic Blue Train is uber luxurious and world-famous. Reminiscent of the Orient Express, this vivid blue coloured train is instantly recognizable as it traverses South Africa and its breath-taking scenery in a manner that befits Kings, presidents, celebrities, and even normal folk who have fantasised about the opulence, grandeur, and romance of a bygone era. If you expect nothing less than five-star service, the Blue Train is the perfect choice.
Routes
– Travel from Pretoria to Cape Town (or vice-versa)
One of the most popular routes travels between Cape Town and Pretoria (or vice-versa), a 31-hour journey of 1 600 kilometres (994 miles) that offers an incredible opportunity to drink in South Africa's dramatic changing scenery from the lush green Cape Winelands to the reds and ochres of the Great Karoo desert that are seldom seen by most visitors.
You'll feel like the African colonial explorers of days gone by on the southbound route to Cape Town with an excursion in Kimberley, where you'll relive the days of the diamond rush. The northbound journey off-the-train excursion is just as nostalgic with a stop at the Victorian village of Matjiesfontein with its original 19th century London lampposts and Victorian buildings where you'll feel like you you've entered an era suspended in time sipping sherry at the Lord Milner Hotel bar and touring the local museums on an old London bus.
– Travel from Pretoria to Kruger National Park
The Kruger National Park is in the top three destinations that visitors want to see while on holiday in South Africa and the Blue Train's 3-day railroad adventure is the best way to see Africa's Big Five: Elephant, Lion, Rhino, Leopard and Buffalo and other numerous unique wildlife.
Your off-train adventures will include sunrise game drives followed by a bush breakfast at an exclusive unfenced location inside the Kruger National Park and sunset game drives followed by a spectacular boma dinner which will include an interactive cultural experience.
Experience
Between off-train excursions, life on the train revolves around scrumptious breakfasts, gourmet five-course lunches, elegant high teas and dinners that require your best dress. During the day, the Lounge Car is the perfect spot to relax with a few drinks and snacks, while the observation Car at the rear of the train is a wonderful place to soak in the stunning scenery, there is also an on-board Boutique if you want to shop for gifts and souvenirs. While you enjoy post-dinner drinks, cognacs, and Cuban cigars in the Club Car your assigned butler will convert the cushioned seats in your compartment into plush beds. In keeping with the spirit of all-out opulence, your personal butler is available to you 24 hours a day.
Luxury suites: the twin or double-bed suites offer deep, long baths, the choice of radio and movie channels on a private digital entertainment centre, as well as a selection of music CDs and big-screen movies on DVD.
Deluxe suites: these suites feature either twin beds with a shower, or double beds with a bathtub and handheld shower.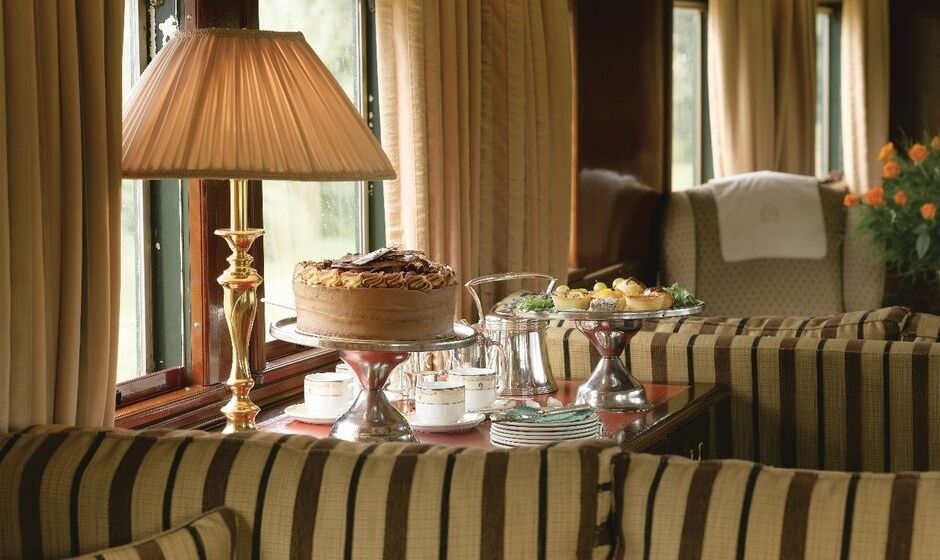 Image credits Rovos Rail
ROVOS RAIL
Rovos Rail's trains hark back to a more elegant era encapsulating the timeless grace and high romance of African exploration. These showstopping trains have been beautifully rebuilt with vintage wood-panelled coaches restored to their Edwardian grandeur. Rovos Rail journeys are tailored to the discerning traveller longing for old-world splendour in a lavish setting.
Routes
– Classic routes throughout South Africa and to Victoria Falls/ Dar es Salaam/Namibia
With an international reputation for its truly world-class travel experiences Rovos Rail offer a selection of bespoke train journeys lasting from 48 hours to 15 days. Linking many of the continent's greatest destinations you can rediscover the old pioneering trail of the Karoo on a 4-day journey through the Cape. Venture into the heart of the South African bushveld on a 3-day Durban safari or a 4/5-day meander to one of the natural wonders of the world – Victoria Falls.
On longer journeys you can explore the untamed deserts and the wild Atlantic on a 9/10-day Namibian safari or embark on an epic 15-day voyage across Southern Africa to Dar es Salaam.
Experience
Sumptuous lounge and observation cars feature plush sofas and booths with big picture windows perfect for viewing the tapestry of landscape, game, history, and culture that enfolds like a movie as you pass through endless African scenic beauty. The observation car with its open-air balcony makes for a great mingling area, or a quiet corner to while away the days.
Expect the formality of fine china and glassware, crisp linen, and silver, and to dress accordingly. Days on board are smart casual while evening attire is more formal. On long journeys themed evenings means you can dress up accordingly. On Rovos Rail you'll enjoy discreet and friendly service and will find that your every need is catered to.
Royal suites: offer plenty of room. Each suite is air-conditioned and has its own private lounge and bathroom with Victorian bath and separate shower. They can accommodate two people and offer the choice of side-by-side twin or spacious double beds.
Deluxe suites: are spacious and can accommodate two passengers in either twin or double beds. They feature a lounge and en suite bathroom with shower.
Pullman suites: these are equipped with a sofa-seat during the day, which can be converted to double or twin beds for the evening and have an en suite bathroom with shower.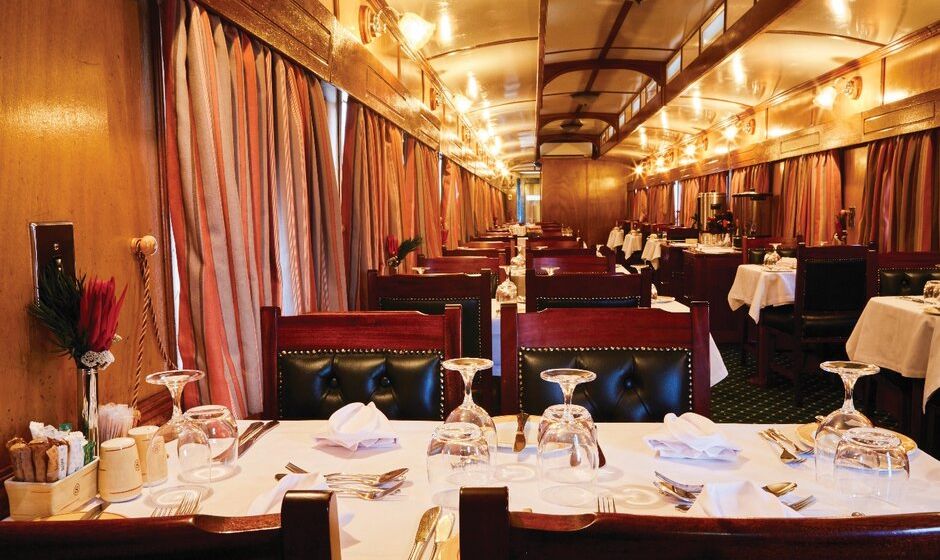 Image credits Shongololo Express
SHONGOLOLO EXPRESS
With its sheer variety of destinations and off-train excursions the Shongololo Express offers some of the best touring experiences for visitors to southern Africa. Adventure is guaranteed when you spend 12 to 15 days on a grand odyssey journeying through some of the most panoramic vistas in countries like South Africa, eSwatini, Namibia, Zimbabwe, and Mozambique.
Routes
– Rail holidays throughout southern Africa with game drives and excursions included
The Shongolo Express offers four tailored routes:
African Trilogy: A rich tapestry of landscape from the mountainous east to the wild deserts of the west. This panoramic 15-day sojourn winds its way across southern Africa from the Indian Ocean in the east to the Atlantic coast in the west. Starting in Pretoria and ending in Namibia.
Good Hope: A 15-day grand adventure offering amazing insight into well-known destinations across South Africa starting in Pretoria and ending in Cape Town. Southern Cross: An impressive 12-day panoramic journey through the countries of South Africa, eSwatini, Mozambique and Zimbabwe. From Pretoria to Victoria Falls ending with a sunset cruise on the mighty Zambezi River.
Dune Express: An epic journey of discovery across South Africa's Karoo and the Kalahari Desert to the Atlantic coast in Namibia.
The Shongololo Express offers a myriad of off-train excursions that will dazzle your senses. Golf lovers will tee off on some of the best greens in Africa, that also happen to be frequented by the odd giraffe or zebra. Or you could find yourself on Namibia's 'star dunes' and otherworldly Sossusvlei salt pans. Perhaps marvelling at the majestic Victoria Falls in Zimbabwe is on your bucket list or maybe it's a sunset game drive in the iconic Kruger Park. Whether you've always dreamed of shopping in the cosmopolitan city of Cape Town or experiencing the Valley of 1000 Hills in KwaZulu-Natal, there's an excursion to fulfil every African holiday fantasy.
Experience
The Shongololo Express invites you to experience the magic and mystery of Africa in a relaxed and elegant fashion. The classic wood-panelled coaches are the epitome of style with charming period features offering both sophistication and pure comfort while the laid-back atmosphere means that the dress on board the train is casual. Traditional dishes are a specialty and meals are complemented by fine South African wines. Each train consists of accommodation carriages, dining cars, a lounge car, small gift shop, smoking lounge and an observation car with an open-air balcony.
Suites
Emerald suites and Gold suites: The two types of cabins are refined and spacious offering privacy and comfort with double or twin beds and fittings and facilities that are of the highest standard. All have en-suite bathrooms with shower, toilet and basin, tea-and-coffee facilities (Emeralds only), safes, air conditioning, linen and amenities and are serviced daily.
Train travel evokes a certain sense of childlike wonder so extending the experience of a train journey into a modern, luxurious travel experience is the perfect way to see a new country. If thrilling excursions, vintage opulence, five-star accommodation and fine dining sounds like your kind of holiday, we'll book your rail journey, flights, hotel accommodation and any extra safari tours or experiences in one bespoke tailor-made package. Speak to the experts at Best of South Africa Travel today by calling UK 01233 80 27 27 or visit our website www.bestofsouthafricatravel.co.uk.