Holidays on a luxury houseboat: Best of South Africa Travel's top 5
If you are looking for a novel way to experience the beauty of Africa then a luxury houseboat is the way to go. Set sail on idyllic shimmering waters and experience showstopping sunsets and natural scenic splendour as you while away your hours on board soaking up the sun on lazy summer days and stargazing at the vast canopy of stars that make up the African night sky. You are guaranteed to experience leisure and adventure in equal measure, so round up your ship mates and bunk down in one of these heavenly houseboats, all-out luxury and tranquillity awaits.
1. Zambezi Queen, Chobe River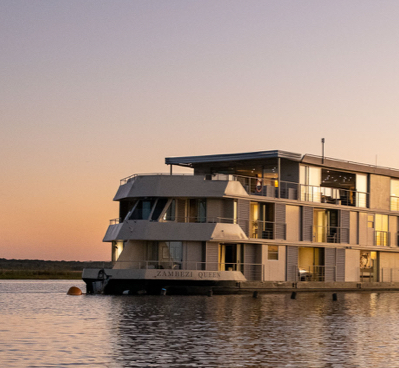 The Zambezi Queen is a luxury floating hotel offering decadent cruising on the Chobe River. Forming the northern border of Chobe National Park in Botswana, the wide Chobe river is lined with lush floodplains and dotted with wildlife. Visitors from around the world flock to this game-packed park to see lion, buffalo, giraffe and elephant so cruising the Chobe River aboard The Zambezi Queen means you will experience phenomenal big game viewing.
You'll be able to experience unique water-based safaris on the Chobe River that borders Namibia and Botswana. Mornings are a good time to spot game so climb aboard one of the smaller tender boats and your guide will get you up close to basking crocodiles, pods of hippo and herds of majestic elephant frolicking in the water. Fishing is another popular pastime with all the equipment provided including a well-stocked cooler box or travel ashore and take a cultural tour where you'll meet the Subiya tribe village elders and locals and gain a greater understanding of how the inhabitants of this 100-year old village live.
Head back to your luxurious airconditioned cabin during the heat of the day or take a refreshing dip in the glittering plunge pool as your barman serves ice cold drinks on the pool deck. A superb three-course dinner awaits in the evening as you watch the sunset and the ever-changing view slowly fades to black.
The Zambezi Queen offers luxury accommodation in the form of 14 tasteful and luxurious suites – ten standard suites and four spacious master suites, all with outer decks so you can soak up the revitalising Chobe River breeze and enjoy uninterrupted views of the unique African landscape beyond. An air-conditioned dining area, bar and lounge open onto an expansive viewing deck complete with a sparkling plunge pool.
For a more intimate river safari experience with only a small number of guests per boat, you can book one of the three Chobe Princesses exclusively, giving you your very own private villa on the water.
2. Shayamanzi houseboat, Lake Jozini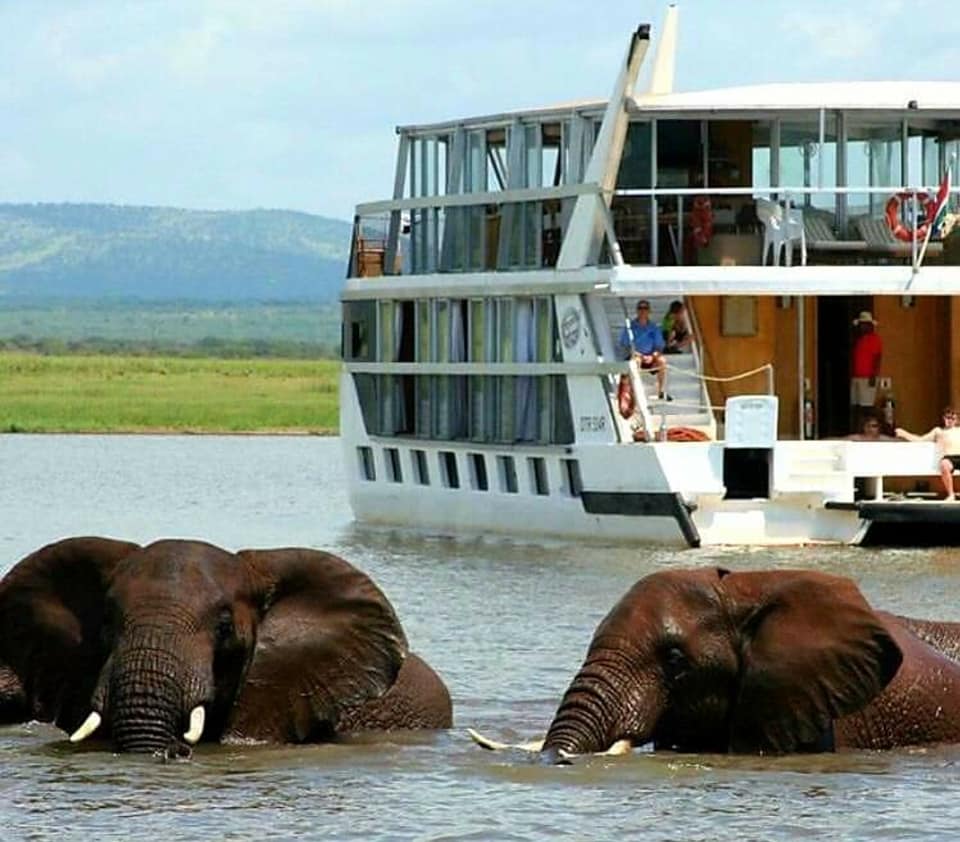 Discover a different side of KwaZulu-Natal from the decks of Shayamanzi I or II and marvel at the stunning scenery of the Lebombo Mountains and the abundant wildlife of the Pongola Game Reserve on the shores of Lake Jozini. Head out on the tender boats with the Shayamanzi crew and explore the lake's secret coves to view the spectacular wildlife or experience the thrill of fishing for the lake's famed tiger fish – the only place they are found in South Africa. A guided rhino walk in the Pongola Nature Reserve will delight wildlife lovers and a day of mountain biking in the heart of the Zululand bushveld will certainly get your heart racing.
After a full day of activity, head back to your houseboat and relax in the jacuzzi to your favourite songs on the superb surround sound followed by a delicious meal and a festive evening of karaoke, or simply retire to your oak panelled cabin, to enjoy the calm serenity of the open Lake Jozini waters with the stars glittering on the water, the moonlight pouring through your window and the sound of grunting hippos and exquisite natural African birdsong.
Shayamanzi I can accommodate 12 guests and Shayamanzi II can accommodate 20. For larger groups, both boats can be hired to accommodate a maximum of 32 passengers.
3. Nirvana houseboat, Langebaan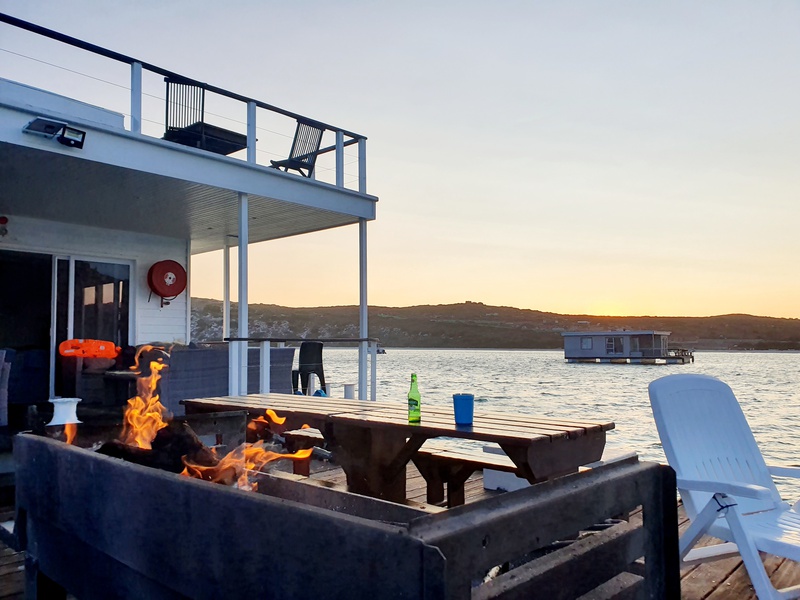 Permanently moored in Kraalbaai, on the Langebaan Lagoon, the Nirvana houseboat is a popular choice for a water-based holiday. Just off Kraalbaai in the West Coast National Park, living on the water comes with a whole load of perks, with a spacious 45 square meter floating platform from which you can enjoy sunbathing, swimming and fishing as well as water sports like kayaking and stand up paddle boarding. The houseboat can also be used as a base for exploring the delights of the area which include spending lazy afternoons on the beach, mountain biking, sightseeing and boat trips.
The Nirvana Houseboat consists of an upper and lower deck and has been luxuriously finished. Spend warm balmy evenings on the lower deck relaxing in the spacious lounge in front of a romantic fireplace listening to your favourite tunes. With breath-taking lagoon views and all that nature has to offer on your doorstep the lounge leads out onto a large, wind-free foredeck, an ideal spot for some al fresco dining and that all-important traditional South African braai (barbeque). The upper deck offers spectacular wrap-around views and has plenty of space for laid back relaxing where you can indulge in a soothing massage and enjoy the view and sounds of the pristine lagoon while sipping cool refreshing sundowners as the sun sets on another day in paradise.
Nirvana Houseboat is self-catering with a state of the art, fully equipped kitchen with a large gas stove, oven and fridge. Kitchen utensils, crockery and cutlery are all provided so all you need to bring is your food and drink. A fully catered option is also available upon request.
The Nirvana houseboat sleeps 22 people with six luxurious cabins and three bathrooms on the lower deck and three luxurious cabins, a full bathroom and two sleeper couches in the lounge on the upper deck.
4. Zambezi Trader, Lake Kariba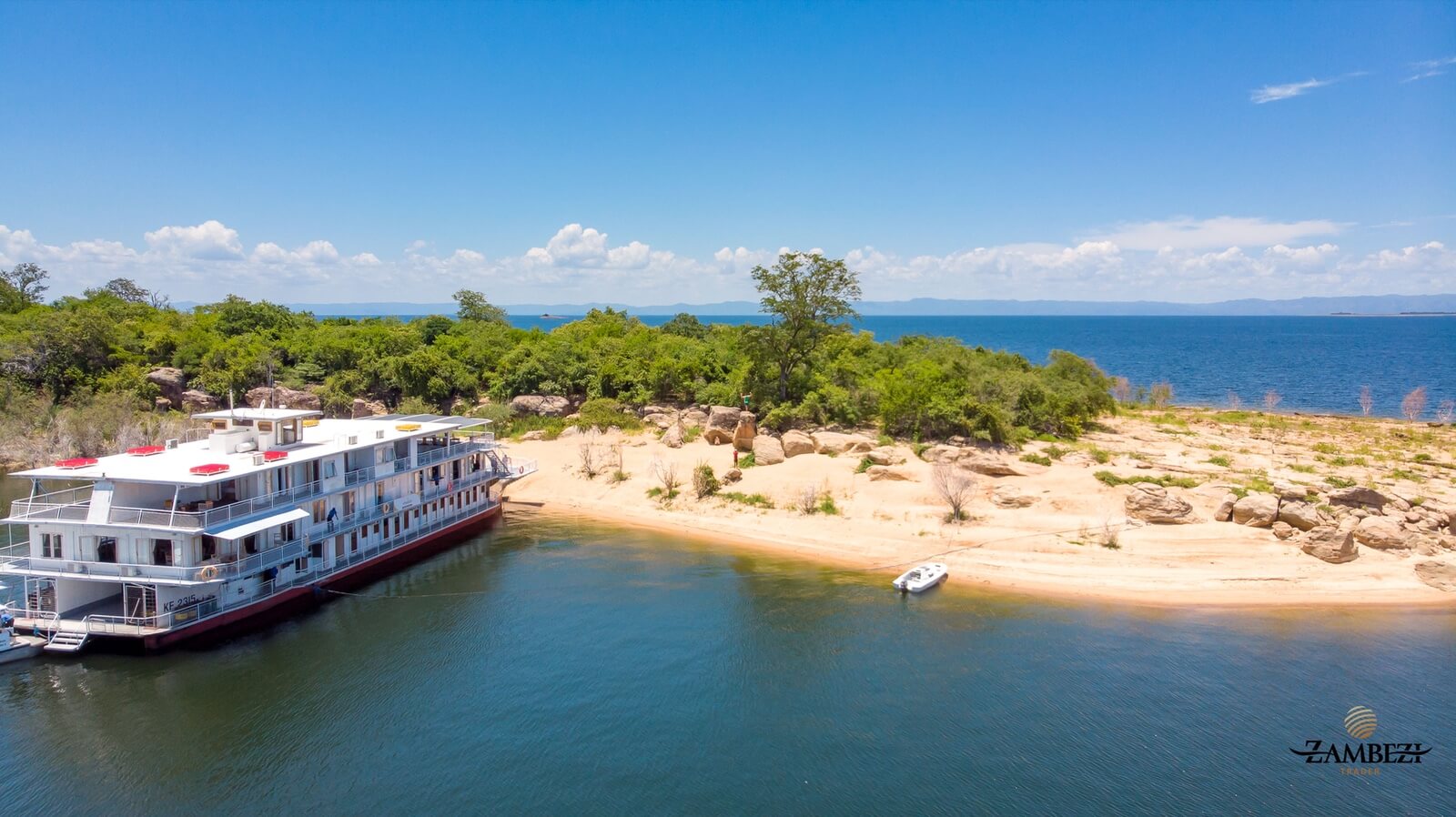 The Zambezi Trader is a luxury passenger ship situated on one of Africa's most beautiful lakes, Lake Kariba on the Zambezi River between Zimbabwe and Zambia. The ship is ideal for a gathering of friends and family looking for a fabulous holiday cruise. You can disembark at any of the lodges or islands along the lake's shore, and enjoy the many activities that the lake has to offer, including fishing, game viewing and walking photographic safaris.
Cruising on the Zambezi Trader means you can soak up the sun beside the infinity pool with poolside service from the bar. Savour one of the signature safari cocktails whilst you experience the scenic African vistas and the very best of the Zimbabwean wildlife. There is a full range of drinks to select from which includes local beers, spirits and wines. The wine list also includes a variety of wines from different parts of the globe and dining on the Zambezi Trader offers an opportunity to dabble in fine dining, with expertly prepared meals that showcase the finest local and international cuisine.
With a selection of bars, restaurants, lounges, conference facilities, satellite TV and even a dancefloor, your every whim is catered to.
The Zambezi Trader has capacity for 200 passengers on day trips/cruises. For overnight cruising safaris it has 23 all air-conditioned cabins with total capacity of 50 sleeping comfortably.
With three decks, the bottom deck has 16 twin bedded en-suite railway design cabins (total capacity 32) while the middle deck houses 2 bunk rooms, each with twin beds and 1 bunk (total capacity 8) and the upper deck houses 5 luxury double-bedded executive suites (presidential, king and 3 x queen suites) all with private verandas (total capacity 10).
5. Knysna Houseboats, Knysna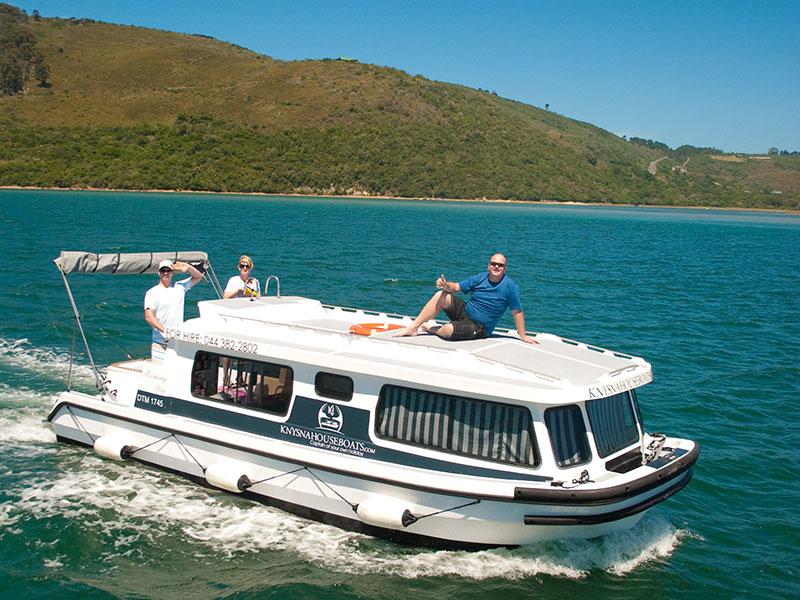 Be the captain of your own holiday and charter a luxurious self-drive boat suitable for up to 4 adults or a family of 5. There is no need to worry if you have never piloted a boat before, you will be given a short navigational course and once you are fully informed and have a good understanding, you will receive a temporary skippers license.
Your floating holiday will begin at the sophisticated Thesen Islands Harbour Town, a multi-award-winning marina development located in the scenic Knysna estuary. It is within walking distance of the Waterfront, yacht harbour and town centre of Knysna, one of South Africa's most picturesque and popular coastal towns.
Your main activities exist of gently cruising along or finding a secluded spot on the lagoon, sun bathing on the deck or a beach, diving into the water, dozing in the afternoon sun with the sound of water lapping beneath you, bird watching and perhaps even fishing for your own dinner.
The kids will love the whole experience on the water, they can jump into the lagoon, catch some fish, go tubing behind the boat and enjoy the outdoors. On the shallow parts of the lagoon, the hermit crabs and inquisitive sea gulls will also keep the little ones interested for hours.
For the true on-board holiday experience, you'll enjoy an assorted catering menu, containing old time favourites such as delicious fresh oysters and champagne, beverages, cold platters and sushi. Room service is also offered on the lagoon, so there is no need for you to leave your boat!
Being amidst some of the best restaurants the Garden Route has to offer, you can cruise towards Thesen Harbour Town and go onshore for breakfast, lunch or dinner in one of the area's vibey eateries or you might also want to explore everything else Knysna and its surroundings have to offer such as beautiful beaches, world class golf courses, the Knysna Elephant Park, hiking or mountain bike trails, forest walks with incredible sea views, ocean safaris, horse riding, Shopping for curious in Knysna and nearby coastal town Plettenberg Bay, indulging at award-winning health spas ,beer tasting and a tour of the local galleries and museums.
Perfect for honeymooners, groups of friends or the whole family, a houseboat safari is one of the most vivid and relaxing ways to experience Africa's game-rich landscapes and waterways. Find your ideal luxury floating home-from-home on a southern African houseboat holiday in 2020, all you need is an adventurous spirit and a love for the outdoors, everything else is provided.