Discover The Magical Makgadikgadi
If you're looking for a dash of travel inspiration, an immersive journey across Africa is guaranteed to ignite the explorer in you. How about a holiday to the Makgadikgadi Pans in Botswana? Escape the ordinary and experience a luxurious break from the norm in untouched, raw natural beauty.
Surrounded by the arid savannah of the Kalahari the Makgadikgadi Pans is one of the largest salt flats in the world. Visible from space it was once an ancient super-lake which today is characterised by vast and lunar-like layers of shimmering chalky white clay. During the wet season the rains form shallow lakes in the salt pans, and this parched otherworldly landscape magically transforms into a garden of Eden attracting thousands of animals who head to the pans to graze on the lush grassy plains and enjoy the bountiful watering holes.
The highlight of any trip to the Makgadikgadi Pans is witnessing the annual zebra migration. Joined by Botswana's wildebeest population, over 25,000 zebra make their way across the Okavango Delta to the grasslands of the Makgadikgadi Pans.
Best seen from one of the luxury safari camps in the Makgadikgadi National Park, watching the herds of wildlife on the move across the briefly verdant salt pans is a spectacular event and provides the perfect backdrop for romance, a family adventure or a bird lover's dream.
AN AFRICAN LOVE STORY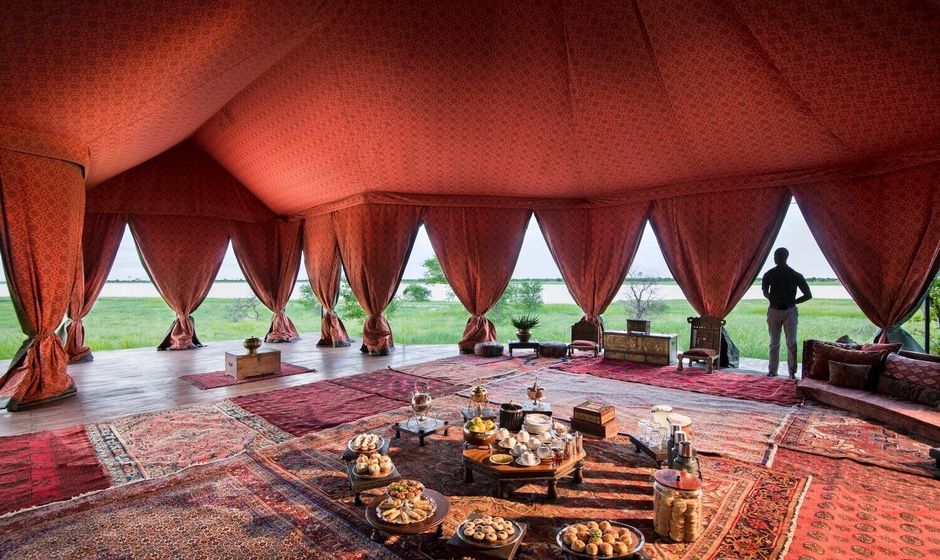 Jack's Camp is all about old fashioned romance and nostalgia, perfect for honeymooners and loved up couples celebrating that special anniversary. Reminiscent of an old-world colonial safari camp with pioneer day touches and luxury amenities Jack's is an enticing setting for an African love story, nestled under a canopy of gently swaying Molokwane palms.
The camp's ten Bedouin-style tents are spacious, elegant and embellished with Persian rugs, beautifully draped walls and antique furniture in dark wood and polished brass. Drift off to the sounds of the bush in your lavish four-poster bed or enjoy a sumptuous soak in a free-standing copper bath in your en-suite bathroom. An al fresco shower means you'll have an invigorating start to the day with unforgettable views and a sparkling plunge pool provides a glorious respite from the heat. Evenings can be spent drinking in the intoxicating Kalahari sunset from your private veranda with the perfect vista of the Makgadikgadi beyond.
With its dreamy Out of Africa vibe the romantic touches continue in the mess tent where you can spend magical moments together in the opulence of a bye-gone era surrounded by old maps, photos, vintage artefacts and comfy campaign-style furniture. There's also a well-stocked drinks chest, the infamous Natural History Museum cabinet and an antique pool table for your personal pleasure. Additional amenities include the iconic Persian tea tent and a small library where you can lose yourself in a good book.
Expect picnic breakfasts and private meals in the bush with views of the watery pans, an opportunity to indulge in some couple's spa treatments or the luxury of swinging day beds in the pool pavilion. Jack's Camp has everything you need to create lasting, beautiful memories and your love affair will include stargazing, horseback safaris, morning walks and game drives led by experienced San Bushman guides and exploring meerkats in their natural habitat.
FAMILY ADVENTURE
Meno a Kwena is reportedly a favourite holiday hot spot for Prince Harry, and it certainly deserves this royal seal of approval with just nine tents this location is exclusive, private and delightfully rustic. Meno a Kwena is an excellent choice for families or a group of friends with lots of nooks and crannies for kids to explore, be entertained and educated at the same time.
The nine fully serviced Meru-style tents rest atop ancient and awe-inspiring cliffs, with views of the serene Boteti River. Generously sized, each tent is ensconced by a traditional fenced boma and are both quirky and homely featuring African style décor accented by colourful locally woven blankets and cushions. There are two family units with interleading tents, with children of all ages welcome at the camp and in addition to an en-suite bathroom you have an outdoor shower offering mesmerising views from your private deck. From the moment you arrive the safari doesn't stop, and the trumpeting of elephants is likely to serve as your early morning wake up call.
The camp has various look-out points and the main camp offers glorious river views and a natural rock plunge pool for those hot Kalahari days. Enjoy the ambience of a leisurely three-course candle lit dinner around the long communal dining table and in the morning a continental or hearty cooked breakfast to kick start the day.
When not taking in the river views from the main camp's pool and outdoor seating areas, you can head out on full-day game drives through Makgadikgadi Pans National Park, where wildebeest and zebra herds attract lion and cheetah. Embark on a tranquil boat safari along the river at dusk to experience prime wildlife sightings before darkness falls or spend the evening around a roaring campfire with your favourite nightcap.
The bushman walk is a highlight of many visits for guests of all ages. You'll learn about the San Bushman culture on a short walk with a tribe and discover the medicinal uses of local plants and how they make their weapons. The experience concludes with a traditional song and dance.
This family-friendly camp also offers a floating hide set on the river, scenic flights over the salt pans and unrivalled star gazing with a portable telescope.
BIRDS OF A FEATHER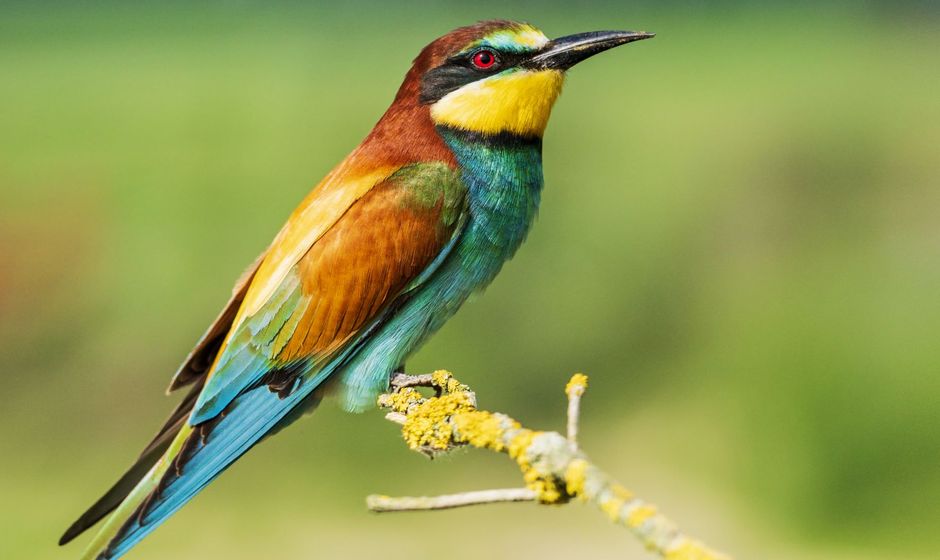 Nata Lodge
Nata Lodge, also known as "Birdwatchers Paradise", is a utopia for avid twitchers. Set in an oasis among the Molokwane palms on the edge of the Makgadikgadi Pans in Botswana the Lodge is situated close to the entrance of the Nata Bird Sanctuary, just 10km south of Nata Village.
Nata Lodge offers 22 rustic African style thatched chalets built on stilts with magnificent views. Book one of the luxury chalets and enjoy private al-fresco showers and long leisurely soaks in a Victorian ball-and-claw bath to the soothing sounds of natural birdsong. Nestled under the lodge's many beautiful Marula trees, ten luxury custom-designed safari tents rest upon on raised wooden decks and make for an unforgettable authentic African experience from which you can view an abundance of avian antics
Head to the outdoor bar area where you can relax with your favourite tipple on the pool deck or take a dip in the crystal blue swimming pool on hot sunny days. The restaurant offers a continental or English breakfast and you'll be treated a selection of a la carte and traditional African buffets or braais to savour for lunch or dinner. A water feature and bird feeding area means you'll be wowed by a delightful cacophony of colourful birds which can be seen from the comfort of either the pool deck, open bar or restaurant.
The canopy of trees surrounding the lodge is also teeming with activity and you're likely to encounter species such as the Helmeted Guineafowl, Crested Francolin, Yellow Hornbill, Pied and Arrowmarked Babblers, Glossy Starling, Meyers Parrot and Paradise Whydah.
The vast salt pans and grassy plains of the Makgadikgadi creates a unique setting for Nata Lodge and the surrounding Nata sanctuary forms the breeding ground for a host of water birds including pelicans and flamingo in their thousands.
A guided tour in one of the Nata Lodge's open vehicles into the Sanctuary is not to be missed. It is home to 165 species of bird life, and various mammals including kudu, springbok, jackals and monkeys.
The lodge's charming curio shop is the perfect place to pick up trinkets and gifts with a choice selection of African crafts, jewellery, books and clothing.
Experiencing the Makgadikgadi is like discovering a precious gem, it will tingle your senses, capture your imagination and be with you forever. Whether it's for love, adventure, family fun or the wildlife, get in touch with us today on UK 01233 80 27 27 or contact ash@bestofsouthafrica.com.