First Time Safari with Kids – What you need to know before you go!
Travelling with kids can be exhausting and stressful at the best of times, and when it comes to embarking on a family safari to Africa it's not surprising that there are a few things you should be aware of before you make your booking. These top tips will ensure that you and your kids have a holiday that's educational, filled with majestic wildlife, rich in culture and fun for the entire family.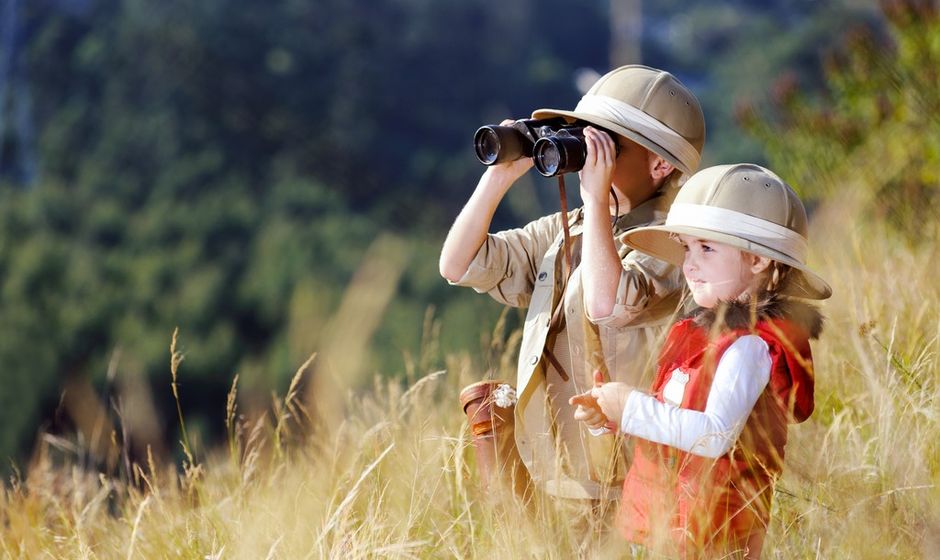 Travel Health Tips
Malaria is present in several countries in Africa and children are at particular risk of severe and fatal malaria. While a few simple precautions can mitigate the risk of contracting malaria, as a rule we recommend that parents avoid taking infants and very young children to malaria areas. Yellow Fever (which is also spread by mosquitos) also occurs in East Africa in countries like Kenya and Uganda. Fortunately, South Africa offers a myriad of malaria-free safari destinations with access to Big Five wildlife and without sacrificing the luxury safari experience. With sound medical advice from your doctor or travel clinic specialist, up-to-date vaccinations, and good, old-fashioned common sense, you are unlikely to have any serious health concerns.
Recommended Age Range for kids
Life on safari means early morning (before sunrise) and evening game drives with long periods of downtime between 11am and 3pm. If you have young tots this tends to upend their normal routines with super early wakeups and different mealtimes such as late dinners. Most family safari lodges will have recommended minimum ages but it's not impossible to have a great safari experience If you are travelling with tots, if you can find a lodge that can provide children's meals and babysitting services you can still enjoy early morning and evening game drives without the stress of the little ones becoming irritable, or downright unmanageable which tends to ruin the game drive experience for you and all the other guests.
Children around eight or over will get the most from a safari. Seeing wildlife requires patience and silence so small kids with even smaller attention spans may struggle. Older children are better at managing their boredom during less-stimulating periods and can take part in the kid's club activities and young ranger's programmes. Bush walks are often only suitable for older children, too, typically from age 12.
Accommodation
By design, safari lodges are geared for relaxation and tranquillity and with communal dining, swimming pools and living areas the other guests may object if you have noisy, active kids. The ideal choice is a private villa away from the main lodge where the whole family can settle in and enjoy mealtimes, wakeups and activities at your own pace. Typically, a villa will also have its own swimming pool where the kids can splash about and be as noisy as they like.
Game Drives
Finding a safari lodge that offers a private vehicle and guide for your game drives is the best way to go. Asking children to sit still for long periods while the other guests are asking endless questions and wanting to stop every five minutes can be challenging for everyone.
The bush is an enormous outdoor classroom and safari guides are the most inspiring teachers. With your own vehicle and guide you can choose the length of your game drives and make frequent stops so the kids can get out and fully immerse themselves in their environment. Also, with your own vehicle the kids get to enjoy the excitement that comes with sitting up front next to the guide or even having a turn on the tracker's seat. You can also make a list of animals they can tick off during the morning drive and for the evening game drive back in the dark you can add some excitement with some colourful glow sticks.
Activities
Some lodges are open to the bush and have wildlife wandering through which will restrict your children's movements to the living areas and bedrooms which is not ideal for kids of any age. We recommend opting for a lodge that is electrified from any dangers where your kids can enjoy being outdoors with rivers to wallow in, trees to climb, and active play areas. Also, a lodge that offers a 'kids club' means more time for you to relax around the pool while the little ones head into the bush on exciting treasure hunts and are kept busy learning how to track animals, touch elephant dung, make spears, discover insects and investigate termite mounds.
Twice daily game drives can go on for too long and start feeling monotonous for young kids. If you have physical kids look for safaris that include boat rides, hot-air balloons, horse riding, quad biking, and guided bush walks.
Bush and beach combo
Nothing beats a bush and beach combination holiday, especially for families. Following long, dusty days in the bush and the thrill of seeing the Big Five in the wild, a beach break is the perfect opportunity to kick back and relax on powder soft beaches lapped by turquoise waters, and with activities like swimming, snorkelling, sand dune surfing, horse riding, sailing, and kayaking, there's absolutely no chance the kids will get bored.
Booking your African safari when you are confident your kids will be well looked after means that you have peace of mind and can enjoy the excitement and anticipation of a new adventure and perhaps, the thrill of fulfilling a dream that your whole family will treasure for a lifetime. If you're thinking of travelling to Africa with children and need some expert tips or advice, give us a call today on UK 01233 80 27 27 or visit our website www.bestofsouthafricatravel.co.uk